In today's world, where online presence has become a determining factor for the success of any business, it is essential to have a strong digital strategy. If you're looking to enhance and optimize your online presence, Akira is here to help. Over the years, we have worked with a wide range of companies, helping them stand out in the vast digital landscape. In this article, we will explore how Akira can be your strategic partner in optimizing your online presence and taking your business to the next level.
Building the Foundation of Your Online Presence
Effective online presence starts with a solid foundation. Akira specializes in creating and optimizing high-performance websites. We understand that your website is your digital calling card. Therefore, we design it not only to be visually appealing but also highly functional and easy to navigate. Additionally, we ensure that your site is mobile-optimized, which is essential in an era where most people access the internet from their smartphones.
Quality Content to Engage Your Audience
Content is king in the digital world, and at Akira, we know it well. We create engaging and relevant content that connects with your audience. Our team of writers and content creators is dedicated to understanding your business and your customers. Then, we develop content strategies that not only inform but also inspire and connect. Whether through blogs, videos, infographics, or social media, we create standout content.
Search Engine Optimization (SEO)
Search engine optimization is the cornerstone of effective online presence. Akira has deep knowledge of SEO strategies. We conduct thorough keyword research, analyze the competition, and develop a customized strategy to increase your visibility in search engines. Akira's SEO is not just about improving your ranking; it's about targeting the right audience at the right time.
Social media is a powerful channel for engaging with your audience and building an online community. Akira develops social media marketing strategies that include creating engaging content, profile management, and targeted advertising. We use platforms like Facebook, Instagram, Twitter, and LinkedIn to increase your online visibility and engagement.
Effective Online Advertising
Online advertising is an effective way to reach new customers and increase conversions. Akira handles your online advertising campaigns efficiently, ensuring that your advertising investment has a high return on investment (ROI). We use precise targeting strategies to reach your ideal audience.
Analysis and Continuous Improvement
At Akira, we believe in continuous improvement. We rigorously track your online results using advanced analytics tools. This allows us to evaluate the performance of your strategies and make real-time adjustments to maximize your online success. We leave nothing to chance, and our attention to detail sets us apart.
Personalized Attention to Your Needs
Every business is unique, and at Akira, we understand that. We don't believe in one-size-fits-all solutions. We work with you to understand your goals, challenges, and specific needs. Then, we create a personalized digital strategy that aligns perfectly with your goals.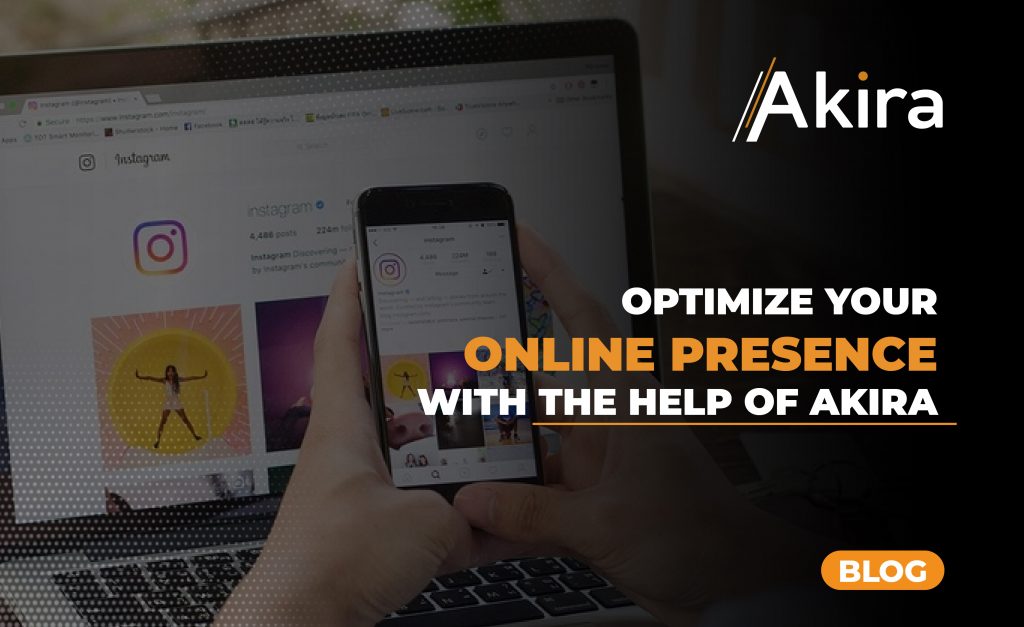 Here are 10 frequently asked questions about "Your Online Presence with the Help of Akira" along with their corresponding answers:
Why is having an effective online presence important?
An effective online presence is essential because it allows you to reach a broader audience, build credibility, and increase business opportunities in the digital world.
What services does Akira offer to optimize my online presence?
Akira offers a wide range of services, including website design, content strategies, SEO, social media marketing, online advertising, and results analysis, all designed to enhance your online presence.
How can I get started working with Akira to improve my online presence?
You can get in touch with Akira through our website or by calling our team. We are ready to discuss your specific goals and needs.
How long does it take to see significant results in improving online presence?
Results can vary, but in general, significant improvements in online presence can be seen within a few months with an effective strategy.
How does Akira optimize websites for online presence?
Akira optimizes websites by ensuring they are visually appealing, functional, and mobile-optimized, enhancing user experience and online visibility.
What is quality content, and why is it important?
Quality content is relevant and valuable information for your audience. It's important because it attracts visitors, establishes your expertise, and improves search engine rankings.
Akira uses SEO strategies that include keyword research, competition analysis, and content optimization to increase visibility in search engines.
What social media platforms does Akira use to improve online presence?
Akira uses a variety of social media platforms, including Facebook, Instagram, Twitter, and LinkedIn, to increase online visibility and engagement.
What advantages does Akira offer in terms of online advertising?
Akira offers highly effective online advertising strategies, including precise targeting, to reach your ideal audience and increase conversions.
What benefits do I get by choosing Akira to optimize my online presence?
By choosing Akira, you gain access to a team of experts who understand your specific needs and goals and work with you to enhance your online presence and achieve digital success.
Your online presence is your business's window to the world. At Akira, we are committed to helping you optimize that presence to achieve your business goals. Whether you need an attractive website, quality content, effective SEO strategies, or expert social media management, Akira has the experience and knowledge to make it happen. Don't settle for going unnoticed online; stand out with Akira and reach new heights of success in the digital world.
If you're ready to improve your online presence and take your business to the next level, contact us today! We are here to help you succeed in the digital world.