Currently, social media is a fundamental tool for any digital marketing strategy. With millions of active users on platforms such as Facebook, Instagram, Twitter, and LinkedIn, it is essential for businesses to know how to manage and leverage these platforms to improve their online presence and marketing strategy.
In this article, we will present you with the best practices for social media management and how to leverage them to improve your digital marketing strategy.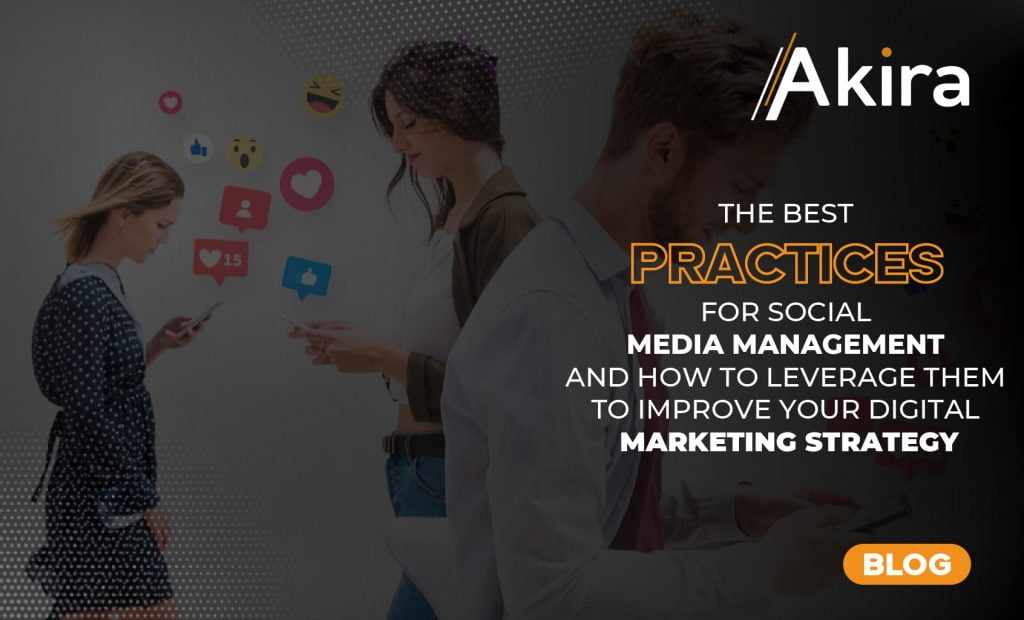 Before starting to use social media, it is important to have a clear understanding of your goals. Do you want to increase brand visibility? Generate more sales? Build an online community? It is important to define your objectives before starting to post on social media.
Get to know your audience
To create content that resonates with your audience, it is important to know them well. Research their interests, habits, and needs. This will help you create content that generates higher engagement and establish more effective communication with your followers.
Choose the right platforms
Not all social media platforms are the same, so it is important to choose the right ones for your brand. For example, if your goal is to generate sales, Instagram and Facebook may be ideal platforms for you. If, on the other hand, you are looking to establish business relationships, LinkedIn may be your best option.
Once you know your audience and the appropriate platforms, it is time to create quality content. Make sure the content you share is relevant, useful, and engaging for your followers.
It is important to post regularly on your social media accounts to keep your audience engaged and attract new followers. Create a posting calendar and follow a content strategy.
Interact with your followers
Interact with your followers on social media. Respond to their questions and comments and establish a two-way communication with them. This will help you build an online community and establish closer relationships with your potential and current customers.
Hashtags are an excellent way to increase the visibility of your content on social media. Use relevant hashtags in your posts and take advantage of current trends to increase brand visibility.
Hold contests and promotions
Contests and promotions are an excellent way to increase brand visibility on social media. You can offer discounts, gifts, or giveaways to motivate your followers to interact with your content.
It is important to analyze the results of your social media posts to understand the impact of your actions and make adjustments to your strategy. Use analysis tools to measure reach, engagement, and return on investment of your posts.
Do not ignore your followers
One of the worst things you can do on social media is to ignore your followers. Make sure to respond to all comments and messages you receive, even if they are critical. Use these opportunities to thank customers for their support and to address any issues they may have. Customer service is an important part of social media management, so make sure to be available to your followers.
You cannot improve what you do not measure, so make sure to regularly review your social media metrics. Pay attention to success indicators such as engagement, reach, and traffic directed to your website. Use this information to adjust your strategy and improve your long-term results.
Social media is an excellent way to connect with followers on a more personal level. Take advantage of this opportunity to show your personality and be authentic with your followers. Show the human side of your brand and try to connect emotionally with your followers. This will help create a stronger connection with your audience and generate greater brand loyalty.
Social media management can be a difficult job, and it can be challenging to see immediate results. But do not be discouraged. Make sure to keep working hard and following industry best practices. Over time, you will see the results of your effort and be able to grow your online presence and improve your digital marketing strategy.
In summary, social media management is a fundamental part of digital marketing today. By using best practices such as setting clear goals, creating quality content, and being authentic with your followers, you can improve your online presence and reach a wider audience. Make sure to always be willing to learn and adjust your strategy for the best possible results.